Product photography will make up most of your ecommerce store's content - and it'll make up your customer's minds, too.

Beyond the fact that 75% of online shoppers rely on product photos to decide on a potential purchase, we're also more likely to buy something we can see and feel. Because customers can't touch your product, try it on or ask questions to a salesperson, your photos will have to take the place of that brick-and-mortar experience. As you start your online store, you'll need professional looking photos that entice your buyer and accurately display your apparel.
The expense of hiring a professional photographer can be intimidating, especially when you're just starting out. Luckily, you don't need a big budget to create beautiful product photos. Here are 4 ways to style and shoot your apparel, even on the tiniest of budgets.
Flat Lay Photography

Flat lay photography is an industry standard because it's easy and inexpensive to produce. Appropriately named, in this type of photography garments are displayed flat and shot from above. While some products aren't well represented by flat lays, T-shirts are ideal for this style. Because most have a relatively standard fit, customers will be able to easily imagine themselves in the garment without seeing it on a model or mannequin.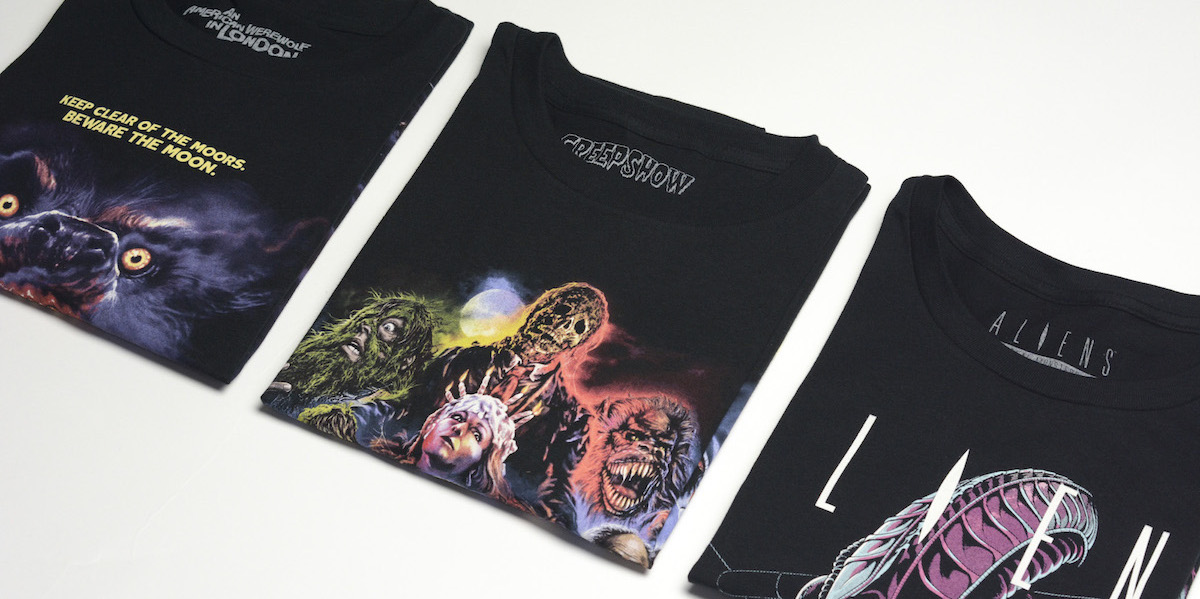 The key here is to work with what you have. With two white poster boards, some natural light and an iPhone camera, you can produce clean, professional looking shots. Shopify has a great in-depth article that covers the ins and outs of setting up here.
When preparing for a flat lay take the time to make your garment look it's best. Smooth or iron any wrinkles, use two sided tape to pull tags out of the way and keep your hems lined up so only the top is showing. Perfecting your setup will minimize your post-production and give you consistent photos that look good in the overall view of your store.

For a slightly stylized play on the flat lay, try hanger photography. Though it's photographed in nearly the same way, just upright instead of flat, hanger photography creates a looser, more natural drape. Include detail shots of specific aspects you'd like to highlight.

If you would like to hire out your photography, there are many photography studios that specialize in flat lays. Resources like Weebly Photo Studio also allow you to ship your product to their studio and, for a relatively small fee per product, receive ready-to-post photos in return.

Quick Facts:

Easy and inexpensive to produce

Minimal post-production

Works well for t-shirts, hats, sweatshirts, and garments with standard silhouette

Harder for customer to picture garment fit




Mannequin or "Hollow Man" Photography:

Mannequins are a good middle road for displaying garments without the cost and added time constraints of working with a model. They allow you to create consistent and clean photos, while simultaneously giving the customer an idea of how the garment will look while worn. This is especially beneficial for apparel with more complex or unconventional silhouettes.

For a basic mannequin shot, scale the setup from your smaller product photos by investing in a seamless (which will minimize post-production) or by simply finding a white wall or sheet to use as a background.
Your apparel should look as natural as possible when you styled on the mannequin. Be sure the shoulder seams are aligned, the collar is straight and there are no wrinkles or bunches in the fabric. To properly fit your apparel to the mannequin, use pins to keep hems and collars in place, add dimension to sleeves and cuffs by filling them with tissue paper or use clips at the back of your garment to create a slimmer fit.
Ghost Mannequins, or "hollow man" photography is considered the cleanest way to use mannequins in your apparel photography because it maintains the form of the garment without the added distraction of a visible mannequin.
If you're savvy with Photoshop, you can try post production on your own photos, and if your budget allows a ghost mannequin can help to eliminate some of the work.

Quick Facts:

Easy to set up and shoot

Necessary for apparel with unconventional fits (like sportswear, dresses or dress shirts)

Heavy post production if "hollow man" style is desired
Model Photography

Model shoots are one of the most popular and widely accepted styles of product photography. It is not only the most realistic way to represent a garment, but it also presents styling opportunities that flat lay and mannequins do not.
It's important to choose, style and pose models in a way that is consistent with your apparel and your brand. Models that represent your target demographic will help your customers see themselves in the garment by identifying with the wearer. (Hint: Listing the model's measurements can help customers with sizing, too - and minimize returns)
Model photography also gives you the opportunity to create ensembles that cross promote other available products.
With all it's benefits for displaying and branding, shooting a model is also more complicated and requires more resources than other styles. Consider the time it will take to coordinate schedules, the cost of hiring a professional model and the hairstylists and make-up artists that may be needed to create your desired look.
If there's any style to consider edging toward a professional, it's model photography but just because you don't have the budget for studio time doesn't mean it can't be done. Look at the resources in your community. Approach newer photographers in your area who might be able to shoot your products for a reduced cost. Ask friends or family to serve as your models. Borrow equipment or rent. If you're set on model photography, putting in the time and creativity can make up for even the tightest budget.

Quick Facts:

More complicated set up with more resources needed

Works well for apparel with unconventional fits (like sportswear, dresses or dress shirts)

Beneficial for branding and overall store aesthetic

Choose models that match your target audience

Styling models in ensembles will help cross promote products
Lifestyle Photography

Lifestyle shoots show your product in context. These create a brand feeling that your customers can relate to and embody. These photos may involve models or props and are great for social media, website headers, email marketing and other promotional materials.
The sky's the limit with this style of photography. You can use friends at a few locations or create a full photoshoot with models and multiple ensembles.
Whatever your budget, brainstorm as you start thinking about your photography. Keep a dedicated collection and save photos you like as you scroll through instagram. Start a moodboard on pinterest. Look to brands and companies you like for inspiration and ideas on how to position and style your apparel and models. If you know what attracts and inspires you, you'll be better at knowing what you want from your own photoshoots.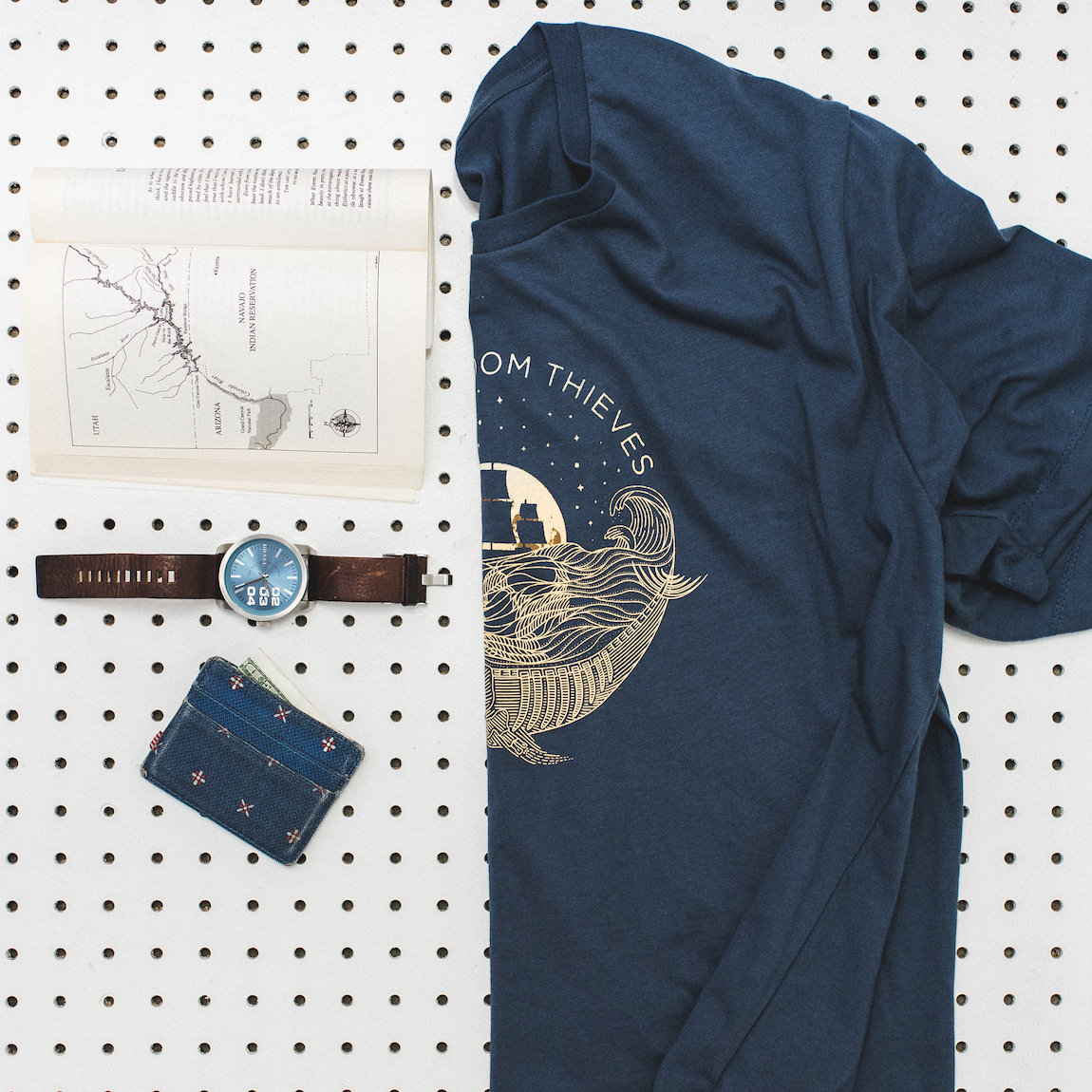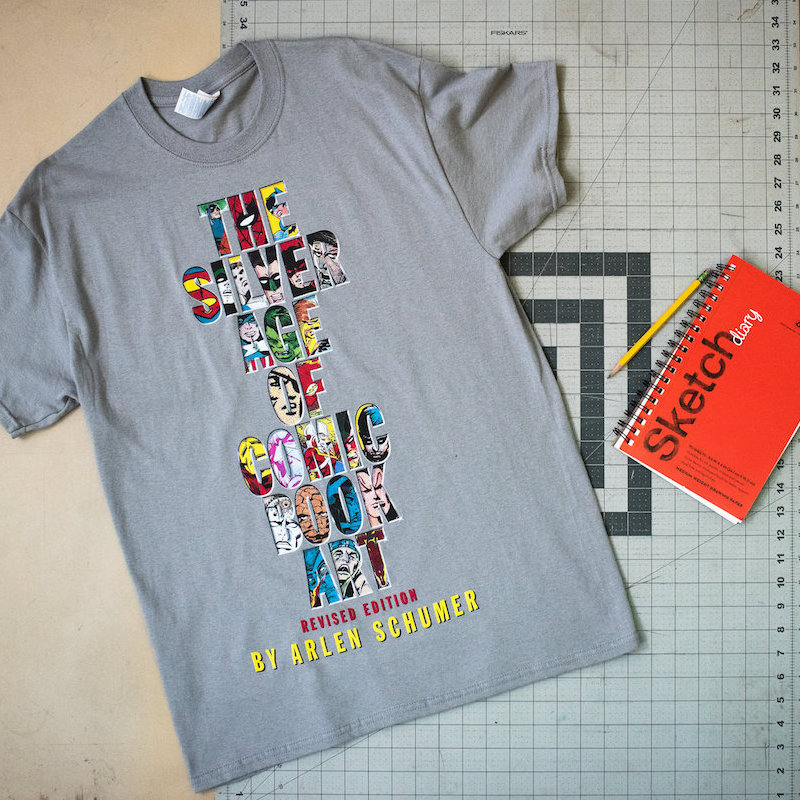 Large styled shoots are rising in popularity because they allow multiple vendors to come together, show off their best work and produce some high-quality photos. Never underestimate the benefits of co branding - you can split the cost of a beautiful shoot while working in your community to promote other products you believe in.
Consider a styled flat lay as well. Instagram and pinterest have a ton of inspiration for these. Colored paper squares easily create a modern, color block background while an arrangement of props tell a story where your product plays a starring role.

Quick Facts:

Best for social media, website headers, email marketing and other promotions

Create brand feeling that customers will want to embody

Consider both model shots and styled flat lays

Styled shoots can cut costs, create co-branding opportunities and create community.