As the CDC states, we should all combine social distancing with wearing masks in public to keep our community safe.
While we've seen a few other shops selling pre-made masks at a markup and offering to add custom prints, this isn't a service we feel comfortable profiting from as a company.
That doesn't mean we can't still do our part, though. Below we've compiled a list of places to get masks directly from sellers in bulk, CDC provided templates to make your own and Rochester artists and makers that you can support with a purchase of one of their hand made masks.
We're just a print shop, not medical professionals, so please pay attention to all of the suggested uses and considerations when ordering and using masks. And again, keep your 6ft distance when out in public, wash your hands and stay home when you can.
A quick note on custom printed masks:
We've seen companies offering to print custom face masks with designs over the mouth and nose. With the thickness and chemical composition of many plastic-based industry standard inks, we cannot in good conscience recommend adding screen-printed designs to your face-masks, especially if a company hasn't done the research to make sure the print won't affect the quality of the mask. An old t-shirt can make a great face mask, but let's keep ink for the tees we wear on our bodies.
MEDICAL GRADE MASKS
As the CDC states, medical-grade masks like surgical masks and N95 respirators are to be reserved for healthcare workers and medical responders only. So for those of us who aren't, let's all make do with alternative options.
If you have extra medical-grade masks, as well as latex-free gloves and other industrial cleaning supplies, local hospitals are accepting donations to help protect their vulnerable staff.
APPAREL COMPANIES:
If you'd rather not DIY or you're interested in buying bulk, these companies, usually our go-to for apparel blanks, are now offering masks. Buying in bulk will often decrease your cost, so join in with a few friends to up your quantity and you'll see savings on your per-item cost.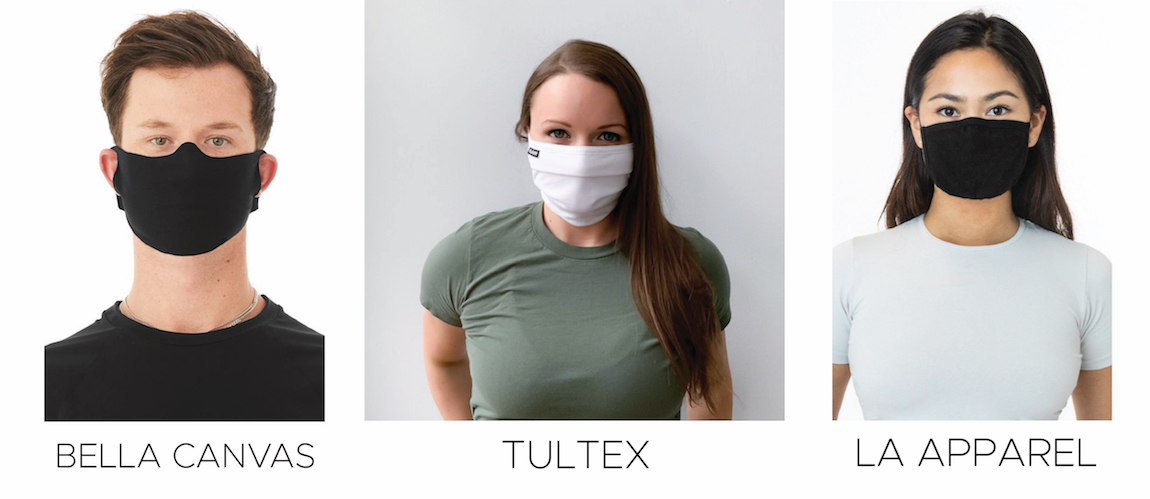 LOCAL BUSINESSES:
With a quick ask on Instagram or Facebook or a text to a group of friends or family members, we think you'll find a bunch of people around you with long-hidden sewing skills. However, if you'd like to purchase a mask, supporting a local business with your purchase is a great option to stay safe and support local.
We'd love to get together a running list of local mask-makers, so if you're sewing masks and you're interested in being added, shoot us an email and we'll put you on as well.
Even-Odd (coming soon!)
DIY - NO SEW
When it comes to No Sew methods, the options are pretty endless. Some people are simply pulling up a scarf or banana. The CDC website offers two varieties for easy-make, no-sew mask making methods, which we've linked to below.
DIY - SEW
Here are three step-by-step walkthroughs for a simple sewn mask (with products you probably already have in your home!)