Google Trends might be, in our opinion, one of the most underrated Google tools. A quick search on this free website will show any word or term's popularity over time in Google search, which, when used well, is basically the equivalent of calling out to a giant group of people, "HEY! What are you interested in?"
Beyond being pretty addicting to play around with, Google Trends is an amazing tool for your business. Below, we'll look at some of the quick and easy ways you can use Google Trends to make informed decisions about marketing, and even starting, your apparel brand.

Find lasting trends for apparel and retail
So you have an idea for a shirt or an apparel brand. One of the first things most people will encourage you to do is research. After all, you want to make sure that there's a market for the product you want to sell.
What to use: Interest Over Time (for different periods)
What it can tell you: Looking at your search term over different periods can help you decide which trends are likely to stick around.
Below we've looked at athleisure over a one year and 5 year period. We can see how the popularity of the search term rose rapidly from 2015 to 2017 and has gradually leveled off since then. Looking at the last year confirms that the popularity of the term has reached a relative plateau.
The popularity of a term over time is a great thing to consider while researching for your brand. Are search queries for your term consistent over time or better yet, increasing? Or are they plateauing or decreasing? While it's not the end-all-be-all, search term popularity can help you prioritize products that are trending up, and avoid the trends that may be on the way out.

Search Term: Athleisure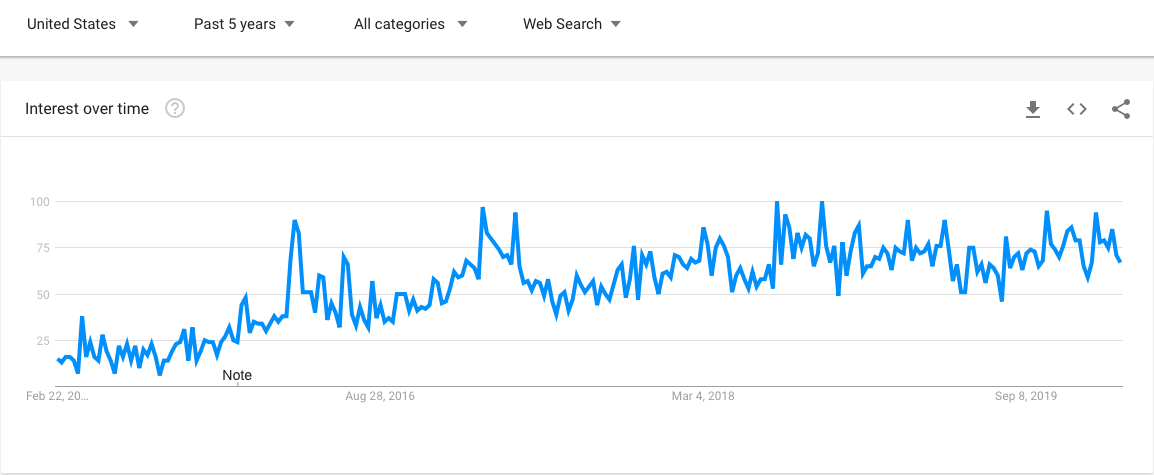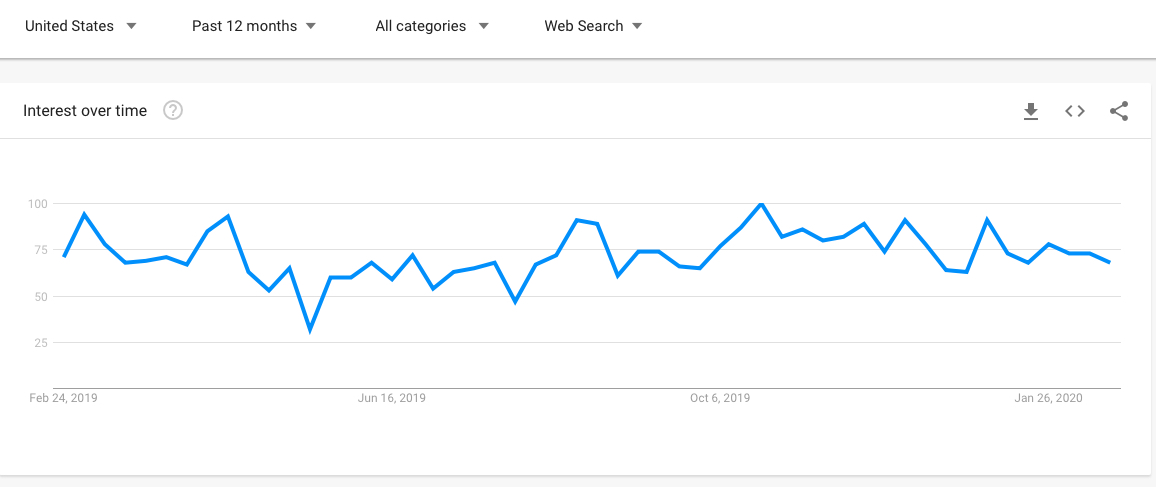 Seasonal peaks and when to post and release products

Google trends can also give you a closer look at the way garment keywords change seasonally.
What to use: Interest Over Time (for different periods)
What it can tell you: Below you'll see the interest over time for the search term "sundresses" over a one year and 5-year span. Even at a glance, it's easy to see the way that the season influences the popularity of the search term. While we'd likely all guess that sundresses are searched more often in the summer than in the winter, this trend graph allows us to get more specific than just "spring" or "summer."

Search Term: Summer Dresses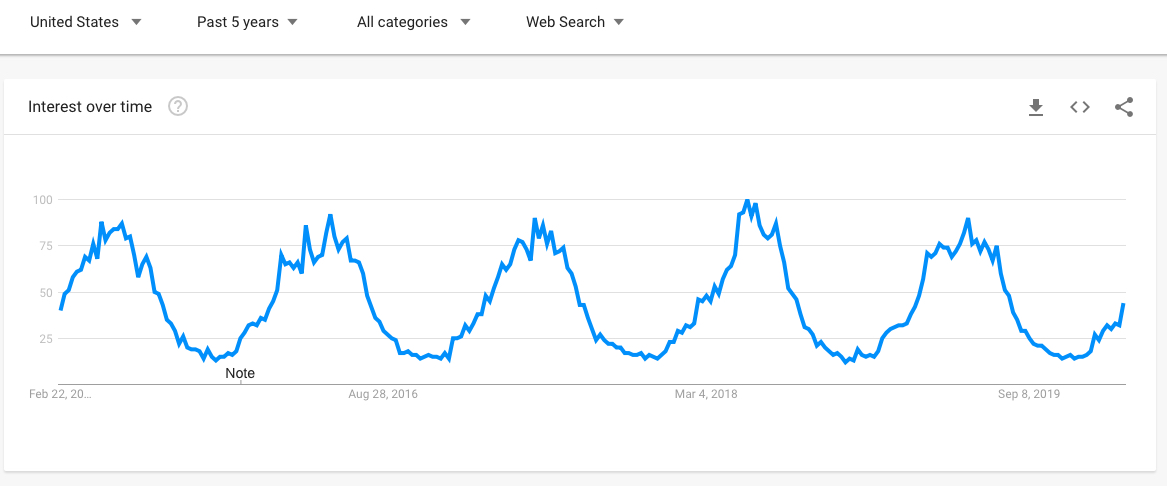 Here, we can see that the first big spike happens earlier than one might expect, with a huge increase in searches starting in early February. And the search terms drop off earlier than we might expect too, with a while a sharp decrease in searches starting in July.
This information is invaluable when figuring out the ideal times to release products, run ads or offer promotions and sales. To beat the competition, you'd want to release your sundress when you could capture those early searches, and make sure you were promoting it heavily until the peak season time of late May and early June. And if you wanted to run an end-of-season sale to offload extra inventory, you might choose a date just before the major drop off in searches.


Idea generation: Use google shopping search for related and trending terms

What to use: Related topics and related queries, Google Shopping Search
What it can tell you: The related topics can show you what's trending in relation to your initial search term. While your blogging and keyword selection can benefit from looking at Google Trends for general web search, narrowing the data down to Google Shopping searches can give you more related, product-centric queries. Things listed as "breakout" are having an extreme increase in popularity, while the percentages represent the search interest compared with the highest point on the chart above. A value of 100 is the peak popularity of the term.
In our "sundress" analysis, we can see that rising search terms include specific sundress styles (like ruffles) related interests (like plus size clothing) and even specific fabrics and colors (like chiffon and lace.) Even at a glance, we can generate ideas for product offerings that are currently increasing in popularity.


Apparel Ecommerce and SEO: What to call your stuff

Search Engine Optimization, or SEO, is extremely important to market your apparel. While many e-commerce platforms have in-built SEO resources that essentially automate keyword research, every bit of additional information can help set your products apart and drive profitable traffic to your site.
What feature to use: Compare terms
What it can tell you: When it comes to SEO, what you call something matters, and choosing the right keywords can make a difference in your traffic. Putting your potential keywords into the "compare terms" feature can show you their popularity relative to each other, which can help you choose between synonymous terms. Below, take a look at the relative popularity of hoodie, hooded sweatshirt and hooded pullover.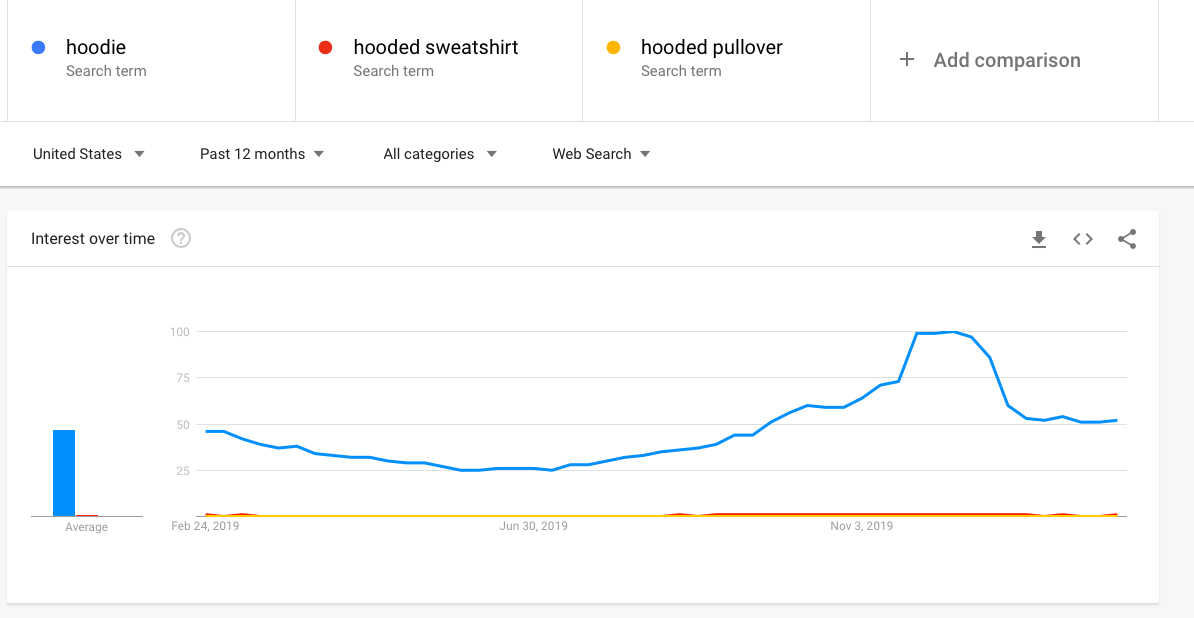 Google trends for brick and mortar stores: Region-specific searches

If you haven't jumped into eCommerce yet, or you're an online shop with a retail location, don't skip the research. There's a Google Trends resource for you.
What to use: Narrow down your location field to your region, state or city.
What to look for: Narrowing down the location can help you pick local-centric products, and get the terminology straight for them as well. Think of the Pop vs. Soda debate. What we call something, and how we'd search it on google, changes with our geography.
Below you can see the extremely region-specific term: Puffer jacket. It's searched in New York far more than in any other state.
Google Trends can see what products and terms are trending in your region - and that can inform everything from choosing what products to stock to how to build your Local SEO to deciding when to put up that puffer jacket window display.



The world of e-commerce can be intimidating, but with the exceptional set of free resources, every competitive edge can result in clicks and sales. Need a little extra help? Tiny Fish fulfillment services have you covered. Contact us to find out more.

Don't miss out on a thing - Sign up for our newsletter to get our blogs right in your inbox