Introduction to Instagram Shoppable Tags
New shoppable tags allow users to go directly to your store from your Instagram post, the platform is now an essential partner for any serious seller.
This feature is still just a few months old and more features will likely be rolled out in the coming months and years. However, brands that have already started using shoppable tags are thrilled with the results.
Why Shoppable Tags Boost Your Profits
You already know that abandoned shopping carts are a major problem. According to BigCommerce, 46% of people abandon their carts because the checkout process was too long or complicated. In other words it took too many clicks to buy the item. When you are using Instagram, your customers view that as part of the checkout process.
If you are asking them to click on a link in your bio, you are going to lose a lot of potential buyers right off the bat. But if your posts have shoppable tags, your customer can instantly see your prices and go directly to your store to buy your products directly from the Instagram post. It's the world's best catalog.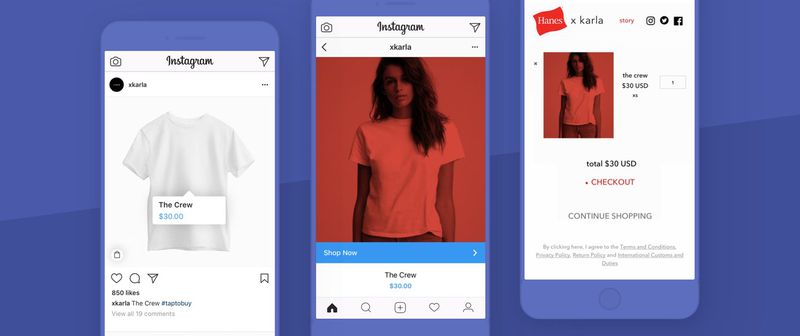 Basic Requirements Before You Get Started
Instagram Shoppable Tags are not currently available everywhere. Before you get started with this feature you need to have the following:
- U.S. Instagram Business Profile
- U.S. English language settings on your business profile
- Sell products in U.S. dollars
- Have a Facebook business page for your store
Dealing with all of the Facebook integration is the most complex and time-consuming part of the process. Once you have finished with the Facebook integration, everything else can easily be done from your smart phone.

Step 1: Get Your Store Approved by Facebook Shop
Your first stop will be Facebook. You will want to complete Step 1 and Step 2 using a desktop computer and not a tablet or phone. Because all of the Instagram advertising options are integrated with Facebook, you need to get your store approved by Facebook Shop. You do not have to have your store live on Facebook Shop. You will need to go to your business Facebook page and click the shop button and follow the directions.
Step 2: Connect Your Facebook Product Catalog
Next, you will need a product catalog connected to your Facebook shop before you can connect your Instagram account to the catalog. Make sure that your catalog is in standard U.S. English. Again, your Facebook store does not have to be live, but you will need to upload the catalog and have it approved by Facebook.
You will need to navigate to your Facebook Business Manager Settings and click People and Assets and then Product Catalogs to add your catalog.
You can find more details about this step @ Facebook Business FAQ.
Step 3: Open Instagram on Your Mobile Device and Start Tagging
Now you need to go to your Instagram profile using the mobile app. You should see an alert asking you to get started with Shoppable Tags. If you do not see this alert, just click on the settings icon and navigate to Products. You will be prompted select the catalog you want to use on Instagram.
You are now ready to add your tags.
Step 4: Adding the Shoppable Tags
Upload your image, write your caption, and adjust your filters. Then when you go to the Share menu you will see an option to add Shoppable Tags. You can add up to five tags per single image post or 20 tags across multiple image posts.
Fill out the details for the tags including description, price, and URL.
When you are done you can share the post to your feed and wait for the buyers.
If you are looking for more products to sell through Instagram, come and see the incredible quality and variety available through Tiny Fish Printing.
- Team Tiny Fish