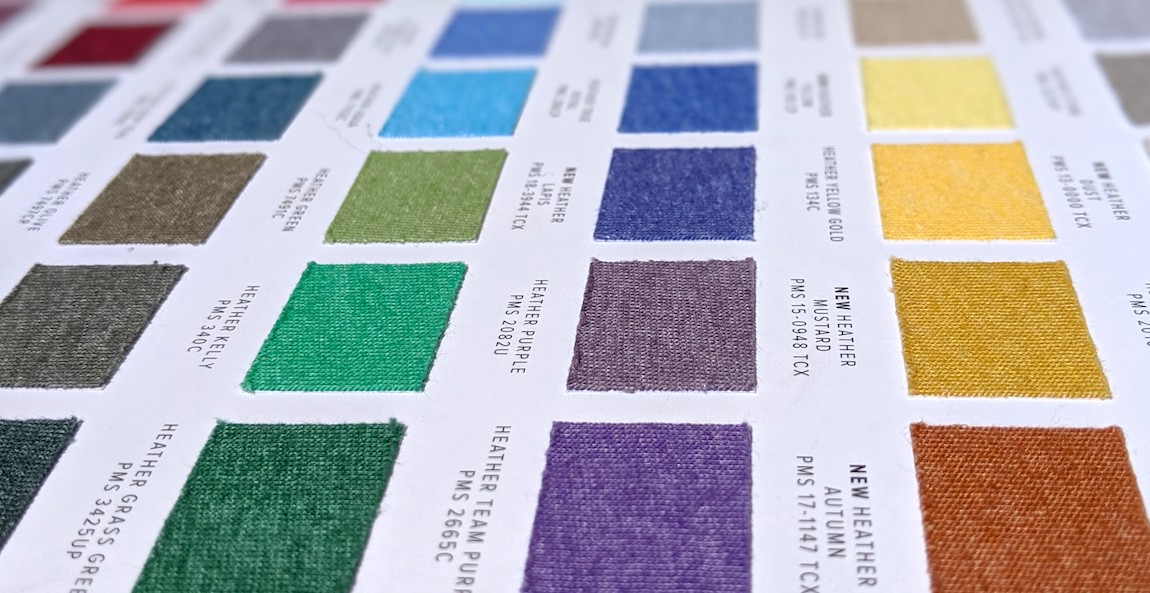 Pulled from NY Fashion Week, the Pantone Color Institute predicts 16 colors that will make the biggest impact for fall and winter. Because styles from the catwalk trickle down into retail and promotional apparel (you know the famous cerulean blue scene in Devil Wears Prada) we can expect to see variations on these shades popping up in more casual apparel.
Here's 8 of Pantone's selected colors with blanks you can use in your next apparel project.
1. Crème de Pêche
Pantone Color Institute describes Crème de Pêche as a "light, embracing peach" that "speaks of softness and ease." This on-trend color closely matches Bella Canvas' Peach, a color option for numerous garments including the classic Unisex Jersey Tee, the Cropped Fleece Hoodie (pictured) and the Fleece Full-Zip Hooded Sweatshirt.

2. Peach
Bella Canvas' Sunset is a darker, richer shade of peach. Pictured in the Unisex Jersey Tee this is a "warm and flattering" color that will keep popping up this season.

3. Fruit Dove
Fruit Dove is not for those shy about bright colors. Of this vibrant shade, Pantone Color Institute says "An extroverted pink, Fruit Dove creates a presence that can't be ignored." Port & Company's Sangria is available in multiple styles, including the Fleece Pullover Hooded Sweatshirt and the Full Zip Hooded Sweatshirt.

4. Biking Red
Pantone calls this deep red "strong and powerful." An more standard autumn color, Independent's Maroon will keep traditionalists happy. Cozy up in this Hooded Pullover Dress or the Hooded Pullover Sweatshirt.

5. Orange Tiger
The "fearless energy" of Orange Tiger is definitely found in this Bella Canvas Burnt Orange, pictured in the unisex Jersey Tee.

6. Bluestone
Pantone Color Institute calls bluestone a color of "quiet resolve." Available in the softened hues of garment dyed apparel, find Comfort Colors' Blue Jean in styles like the Crewneck Sweatshirt, Heavyweight Tee and Heavyweight Long Sleeve Pocket Tee.

7. Sugar Almond
A "sweetened shade of brown," Sugar Almond is a brown warmed with undertones of orange. Bella Canvas' Autumn captures Pantone's selected shade in a recently released option for the Jersey Tee.

8. Paloma
Bella Canvas' silver captures the same "unpretentious elegance" as Pantone's Paloma. Find this subtle grey in both the crew and v-neck tee.