When creating a custom t-shirt, it's important to choose the right garment. But with all the variations and descriptions, choosing a blank for your design can be tough. We put together 25 terms to help you on your journey toward the perfect tee.

Fabric:
Cotton
Cotton, a natural fiber that comes from the cotton plant, is a staple of the quintessential t-shirt. It's breathable, durable and, with many different treatments available, it's a versatile fabric used to create apparel at every price point. Think of the 100% standard cotton tee as your baseline. It's structured, stiffer, and inexpensive enough to be used for giveaways or events.
Ring Spun Cotton
By spinning the cotton, this pretreatment strengthens, lengthens and breaks down fibers, creating a softer and more durable fabric. This produces the higher end t-shirts you'll often see in retail settings. Because of this treatment, ringspun cotton t-shirts are more expensive than a standard cotton tee.
Combed Cotton
This additional pretreatment goes a step further and removes any impurities from the cotton before it's woven into thread, creating an even higher quality, softer fabric soft with a great drape. As a general rule, combed cotton apparel is more expensive. When combined with water-based ink, it will give you a worn-in, vintage feel that the wearer will love.

Polyester
As a synthetic fabric, polyester is a standard choice for workout apparel. Though it's less breathable than cotton, it's lightweight, dries quickly, and will never feel "sticky". And because it's a more durable option, it can also withstand many washings without breaking down or shrinking - a definite must for athletic apparel. While we're talking about sweating, poly apparel can be decorated with a special ink all it's own: ViewSport, an "invisible" ink that's activated with moisture. If you're looking for something a bit more standard, plastisol is the tried and true ink choice for poly garments, though water-based will work as well.
Rayon
Also known as viscose, this fabric is partially man-made. It's main component is wood pulp but it's so heavily processed, it's essentially synthetic. It has a silky feel, a wonderful drape and a very reasonable price point. But 100% rayon is a bit of a pain: it requires dry cleaning or it won't wear well overtime. A fabric blended with rayon is a perfect way to enjoy all of its benefits without compromising durability or washability.
Triblend
Composed of three different fabrics -- polyester, cotton and rayon -- triblends are significantly softer that your average cotton tee. The blended fibers create a slightly dappled color, and the addition of poly and rayon make this tee the go-to for soft, lightweight selections.
Heathered
Heathered apparel is made by interweaving yarns of mixed colors, resulting in a speckled or flecked appearance and a muted color tone. Because of this blended composition, Heathered tees are soft and lightweight. Pair with a water-based ink for an all-over softness and vintage feel.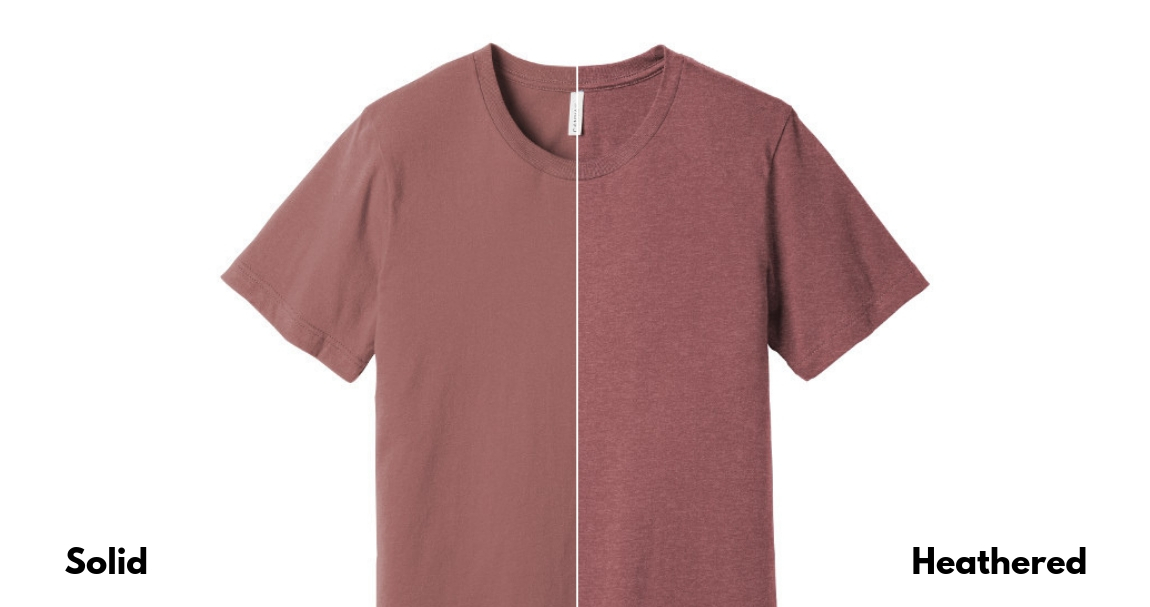 Jersey
Jersey is another blended fabric, comprised of cotton and other synthetic fibers. What truly differentiates Jersey from other blends is the way that it's knitted, which gives it a soft texture, a great drape and, it's unique advantage, a bit of stretch.
Burn Out
Burnout is a process where material goes through a chemical process that dissolves some of the fibers, creating a partially transparent effect. Though more common in women's apparel, it gives any garment an edgy look.
Slub
Slubs, or small lumps and irregularities in a fabric weave, are formed by knotting and twisting the yarn before weaving the garment. While this could be seen as an imperfection, it's intentionally designed into many garments to provide a earthy, rough feel that gives the apparel a more natural, artisan feel.
Fits and Constructions
Standard Fit
This basic fit will be one size fits most. For men, the Gildan 5000 is a good place to start. For women, the Gildan 5000L.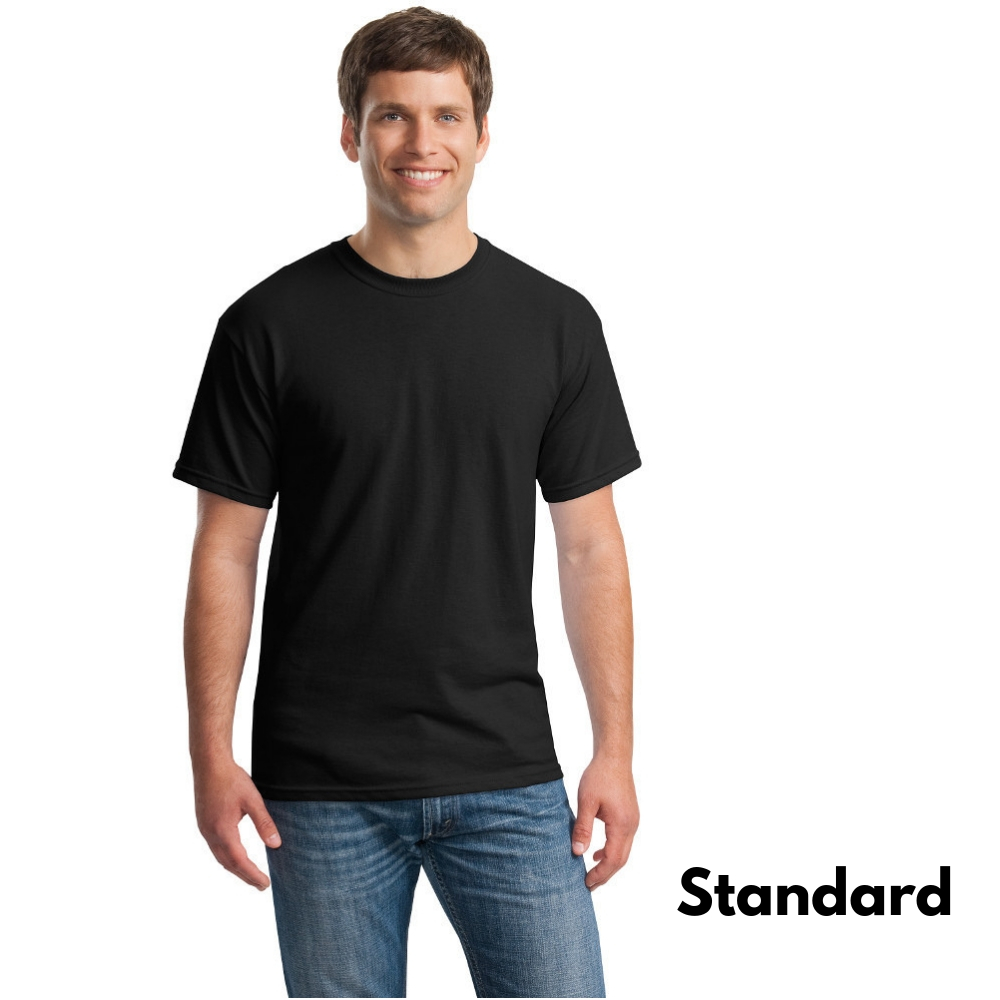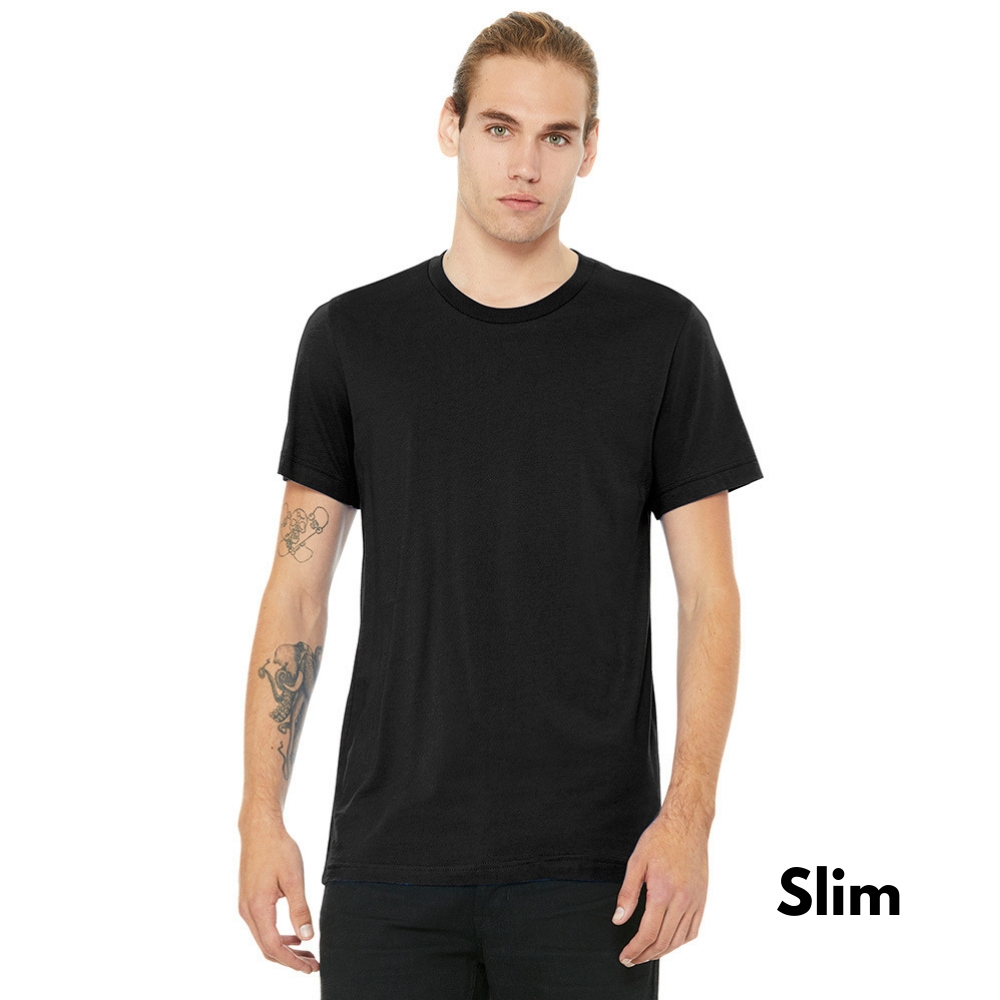 Slim Fit
Just what it sounds like, a tighter silhouette than the standard fit. The Bella Canvas 3001 is a good example of a garment with a slim fit.
Loose Fit
This term can be a bit misleading. Most "loose" cuts are based off the slim profile. For men, the variation may not be as extreme as for women's garments, which come in a wider range of shapes and silhouettes.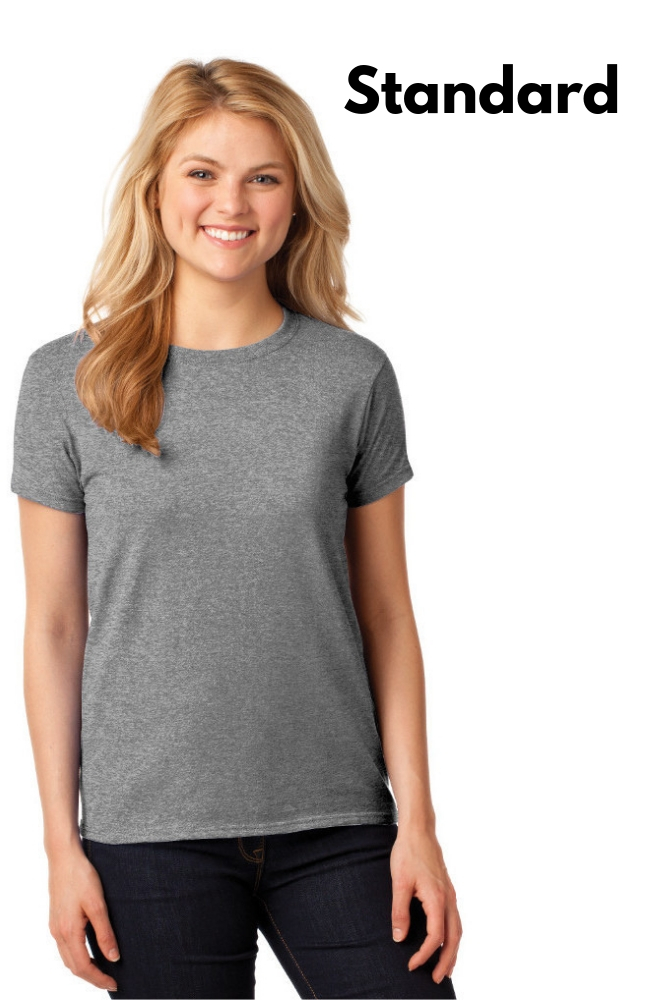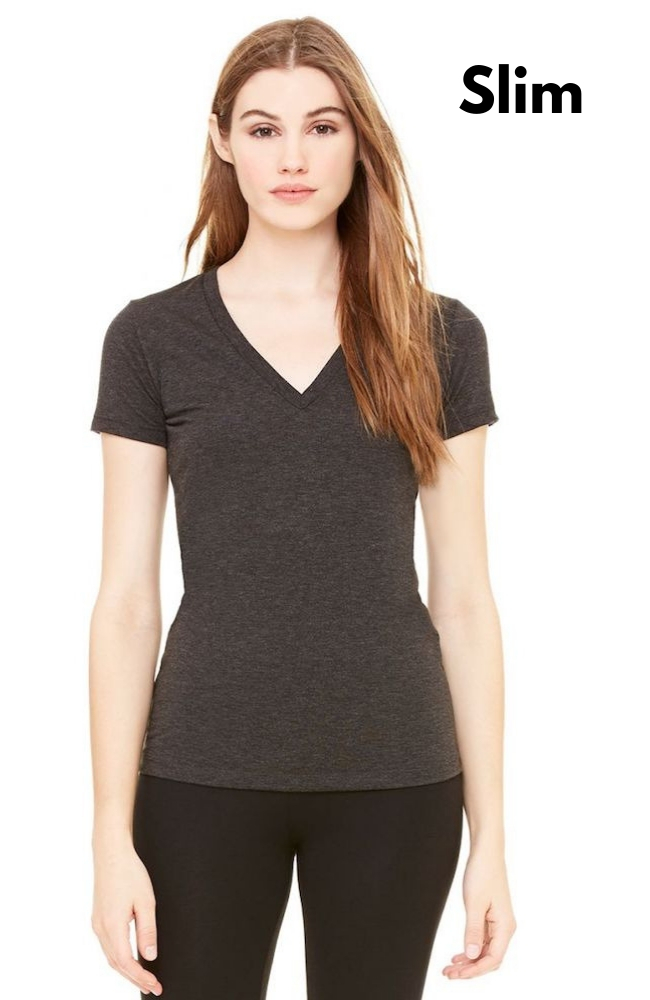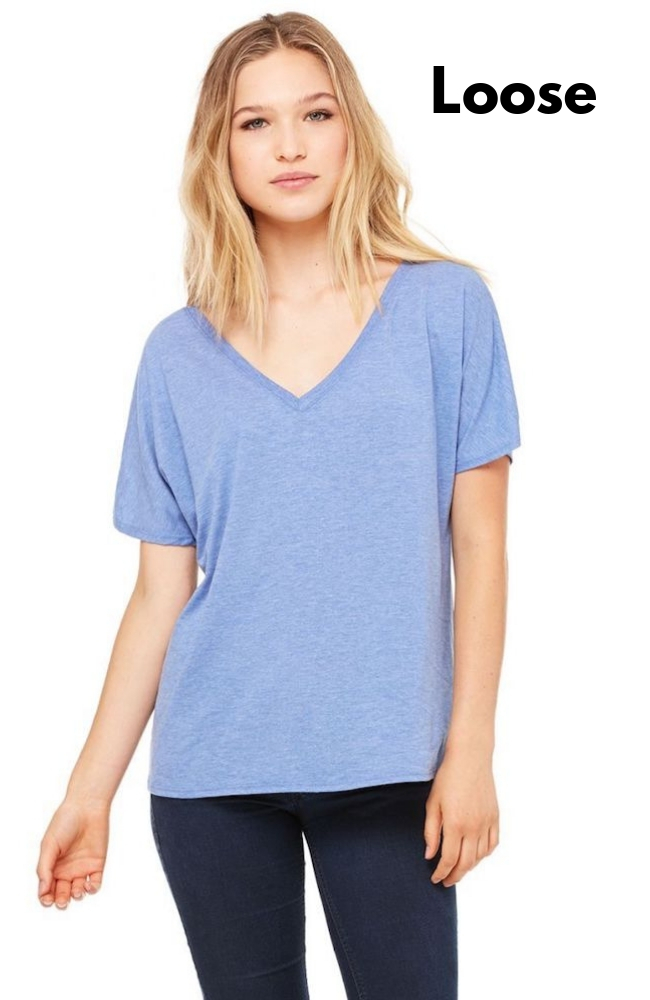 Side Seamed
One of the two methods for t-shirt construction, these are made just the way they sound: they have seams running up either side. This style of tee will have a slimmer, more tailored fit. If you're looking to create apparel suited for a retail setting, you'll want choose this more flattering construction despite its additional cost.
Tubular
Not just a 70's surf term, these tees are woven as one long tube. While this reduces sewing, and therefore cost, they aren't a particularly flattering cut. If you're looking to create low-cost apparel for an event, or you don't mind a less fashion-forward shape, a tubular tee is the best option for you. And because there isn't a seam to interupt your print, tubular tees are also great for wrap around designs or an image placed on the side.
Light Weight
One of the main factors you'll want to consider when choosing your blanks is weight. Weight is determined by ounces per square yard, a lightweight shirt falling in 3.7oz - 5.4oz range. Lightweight tees are a standard choice for retail and apparel brands.
Heavy Weight
If you want to get technical about it, heavyweight tees generally will fall around 6 oz. This thickness will create a shirt that you feel more when you wear it, and won't allow for much drape. The benefits? It will hold its shape and won't be clingy, meaning it will flatter a wider range of body types. It's durable, more resistant to tears and will hold up great over time.
Garment Dyed
Garment dyed t-shirts are colored after they have been sewn into garments, creating a velvetier color.
Pigment Dyed
Pigment dye is a bit of a misnomer, because while dye traditionally saturates the garment, pigment sits on top of the fabric and is set with a special binder. Because of this, the color will eventually fade - into that well worn, softened color we love in our favorite old tees.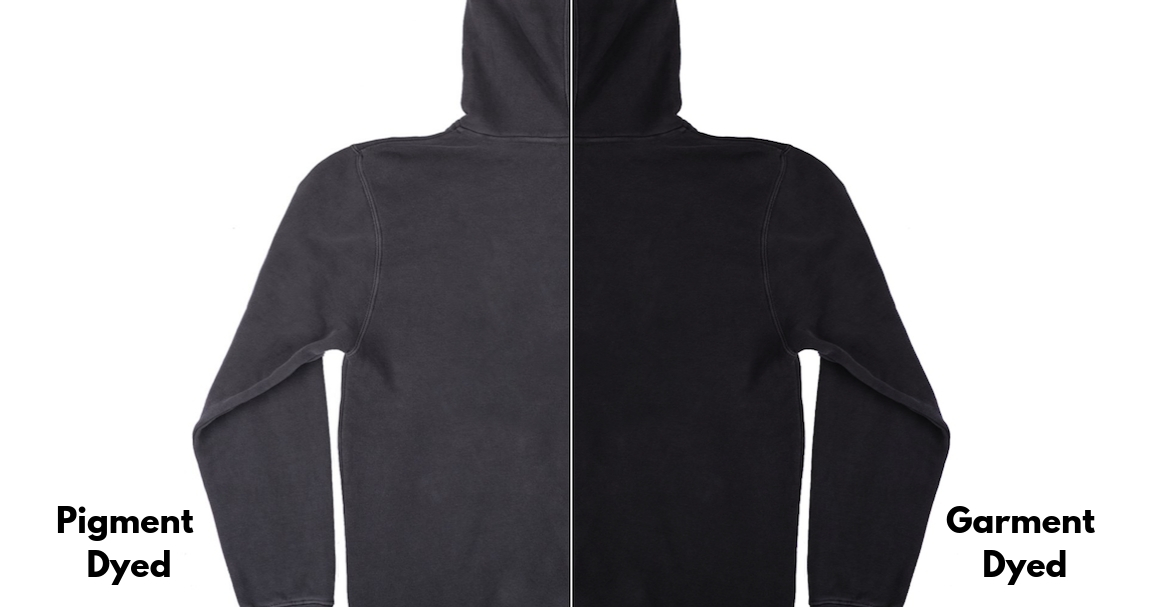 Ringer
A ringer tee is created by using ribbing on the sleeves and collar that contrasts with the main fabric of the garment. Cool fact? The ringer has been around since the 1950s, when it was a staple of rock and roll culture.
Raglan
When most people think of raglans, they probably picture the quarter-length sleeves and two tones of a vintage baseball tee. However, the only real identifier of a raglan is a shirt where the sleeves extend all the way to the collar in one solid piece, a quality you'll see just as often in one color crew-neck sweatshirts.
Tear-away neck label
If you're looking to have your garments retagged, tear away neck labels are a great quality to look for. The manufacturer's tags pull away cleanly, so you'll see no evidence there was ever anything but your custom labels.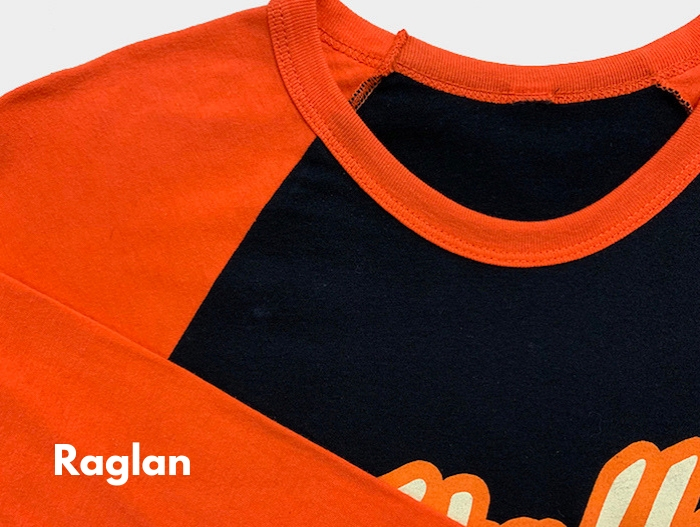 Taped
Taping is when a fabric strip is sewn over the raw edge that closes the front and back shoulders or the neckline of a t-shirt. Beyond reinforcing the seam for better durability, it also provides added comfort and a higher quality look by concealing the raw edge and stitching.
Preshrunk
All cotton garments will shrink to some degree: Pre-shrinking is the process of pushing the fibers of the garment closer together to minimize the shrinkage you'd see after the first wash.
Raw edge
Apparel with a cut, rather than folded edge, gives the finished garment a earthy, deconstructed feel.